Digital Content
Today, websites are one of the main digital media of an organization. However, as it is with all technology, if not provided with constant updates it will not be efficient. It has to be dynamic and it has to build an interaction with the public.

Our editorial team is specialized on the development and update of content for websites, social networks, blogs and marketing e-mails.

Developed to satisfy the demands of business, communication and marketing strategies of each company, these products excel in their clear and direct language and information credibility. This way, they assume the roles of powerful communication channels, information sharing and sales tool.


Websites

Company specialized in the creation and development of graphic design projects for magazines, books and catalogues.
Offers services in prepress, image processing, color proofs, print production, etc.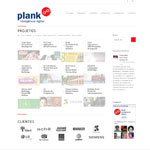 Company specialized in automated management of social media, hosting services for websites and e-mail and advertising campaigns in Google Adwords platform.